House For Sale In Toronto
With the real estate market rising, Toronto is slowly evolving into a world-class city, joining London, New York etc. If you were ever wondering if investing in property in Toronto is worth it, the simple answer is yes. At Royal Canadian Realty, we are here to tell you why investing in real estate in Toronto is a profitable venture.
As property prices remain to soar in Toronto, there is a steady demand for people looking to either purchase or rent. Earnings from rent is a stable source of income. The rental income can be used to pay off your mortgage payments. Due to Toronto's strong economy, the cost and standard of living are high. Compared to other cities in Canada, Toronto has the highest rent growth rate. Its diverse economy and population attract recognition from the public and private sectors. Unlike most cities, the city of Toronto has many homes that are a century-old. Purchasing these properties have a lot of value, as you can renovate them and sell them for a greater value.
Vibrant city with a healthy lifestyle
If you are considering living in a vibrant city with a healthy lifestyle that has access to everything, look no further than the city of Toronto. An area that boasts the largest population in Canada, it is a hub for plenty of things. Often called the New York of the North, the city is a perfect blend of business, culture and entertainment. Being one of the top five cities globally, it is a great option to consider investing or selling real estate. From safety to employment opportunities, everything about this city makes it one of the most beautiful cities in the world.
A Diverse community
The city of Toronto prides itself on its diverse population. You will see a lot of communities living together in harmony. Individuals from different faiths, ethnicities, and cultures are one of the best things about Toronto. You will barely notice and disagreements or physical altercations between the residents of Toronto. Here's an interesting fact, a large percentage of the population are from outside Canada. These individuals are firmly rooted in their beliefs and culture, making it a global cultural melting pot. The residents are extremely friendly and helpful as well. Unlike other cities in the world, you will adjust to the openness and diversity of the city in no time.
Free healthcare and high quality of life
If you live in a city like Toronto, a significant plus is, that there is a proper system in place for healthcare. Regardless of age, religion, income level, or race, the country offers its residents universal healthcare to anyone who needs it. The city constantly makes regular investments in the healthcare sector by investing in various campaigns and new educational institutions to improve the lifestyle of Toronto's residents. All over the city of Toronto, you will see numerous cycling lanes; they are an integral part that covers the majority of the town. If you wish to lead a healthy lifestyle and keep your health on track, many fitness clubs are available.
Hassle-free access to quality water and green spaces
Being close to nature and its surrounding is one of the critical factors for having sound mental health. These spaces filled with plush greenery have a significant impact on your physical well-being as well. If you are a person that enjoys the outdoors and likes to be in one with nature, Toronto is the place for you. The city also has ample open green spaces that are perfect for you to relax in. You can spend your weekends chilling out at the nearby parks. If you are a romantic, the city has a lot of quaint and cozy getaways as well.
Top-class fine-dining restaurants
Like Manhattan or San Francisco, even Toronto is home to some of the best restaurants and fine-dining options. There are some of the best eateries offering cuisines from around the globe, taking your palate of global gastronomical adventure. You are guaranteed to find quality takeaway joints in this city too. Regardless of where you are staying in Toronto, you will not run short of delicious and healthy options around the region. So, whether you experience new cuisine or just want a change of taste, there are plenty of options to choose from. From Indian to Chinese and much more, your taste buds will not be disappointed.
Sporting activities throughout the year!
Toronto is a city where the residents give a lot of importance to sports and fitness. Over the course of the year, there are various sporting events, from playing golf to kayaking and much more. Even skiing is a popular sport here, and there are great skiing spots where you can enjoy the sport. It is a vibrant city where fitness with the residents is paramount.
Experience all the four seasons
There are four seasons, i.e. spring, summer, fall, and winter. One of the reasons to consider living in Toronto is that the residents can experience and enjoy all four seasons, making it the perfect place to reside in. Even though the climate and the seasons vary all over the country, you are guaranteed to fall in love with the ever-changing landscapes.
Toronto is a financial hub
The city of Toronto is a significant contributor to the country's economy. It is the headquarters of Canada's top five banks, along with other notable industries. Additionally, the technology sector in the city is also booming.
Breath-taking high-rise towers
The skyline of Toronto city is stunning. Visitors from across the globe come to visit the skyline. In addition to Toronto's skyline, there are many breath-taking high-rise towers that look stunning from different angles. One of the most recognizable skyscrapers in the city is the CN Tower skyline. It is the tallest tower in the world, giving visitors a breath-taking view of the Toronto skyline.
If you choose to live in Toronto, it will be a new experience that you will definitely enjoy. Move to Toronto and explore the various neighbourhoods, as there are plenty of property options for you to live in the city. Before investing in real estate in Toronto, you must make sure your financial needs are in place. If you want to live in a city with world-class facilities and accessibility with a healthy lifestyle, then Toronto is the city.
Reliable transit service
Most residents in Toronto can manage to get away without owning a vehicle. It is due to the fact that the public transit, run by the Toronto Transit Commission (TTC), is comprehensive and can take you just about anywhere in the city. There are two main subway lines; Line 1 goes north and south, and Line 2 goes east and west. Additionally, there are shorter lines like Line 3 to Scarborough and Line 4 to Don Mills on the city's outskirts. During rush hour, the subways run every two minutes and every five minutes at other times. The transit service starts sharp from 6 am up to 2 am, and on Sundays, the service starts from 8 am. The Toronto Transit Commission offers discounts for senior citizens and students.
Suppose you are travelling from suburban areas such as Brampton, York Region, Hamilton, or Mississauga. In that case, you can catch a bus or Go Train, as they run into Union Station, which is at the heart of downtown Toronto. In Toronto, public transportation is cheaper and more convenient than owning a vehicle, as you would have to pay for gas, insurance, regular servicing, city parking fees, including road taxes.
Wonderful city to raise your children
The city of Toronto is a great place to bring up your children. It is clean, safe and allows them to experience and witness diversity in their everyday life. There are also plenty of fantastic options for education. We guarantee your children will enjoy living in Toronto.
Great bar and nightclub scene
The city is known for its bar and nightclub scene; It has built a reputation over the years for buzzing nightlife. There are plenty of options and venues to suit all budgets and tastes. King West is home to many bars that typically cater to the young crowd. The scene on Queen West is more for the indie crowd. The East End is home to more local bars than nightclubs, which are ideally situated in the western part of Toronto or downtown. Queen Street and the strip on Ossington is another area with a great host of partying options.
Top-class educational institutions
Toronto is home to some of the finest schools and universities. It prides itself on having a solid primary and secondary education system with hundreds of renowned public and private educational institutions. The city has highly educated residents, thus attracting the sharpest and brightest minds and the best businesses. Toronto is home to four universities and colleges, all of which are publicly funded. These universities and colleges offer a wide selection of fully accredited diploma, degree, and certificate programs, to help students excel in their life and career. Additionally, there are many research centres and apprenticeship institutions that offer students a plethora of skillsets and diverse degrees.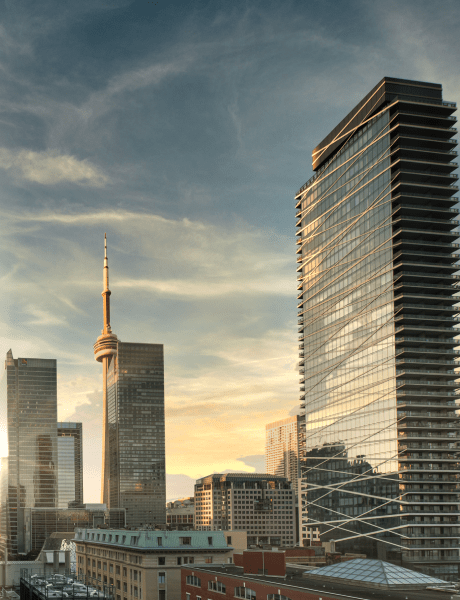 Why choose Royal Canadian Realty?
We are a well-established and reputable real estate firm offering stunning properties for rent and sale in Toronto. Whether you are an affluent business owner looking for a commercial space for your business to flourish and thrive, or a student looking for affordable accommodation near your university, or looking for a property and area that is family-friendly, you can count on us to not only meet your expectations but also deliver the right property that suits your needs and budget. From condos to apartments and villas, we offer a comprehensive range of property listings to choose from. You simply have to discuss your specific requirements with our professional and friendly team, and we will take care of the rest. With years of experience in the trade, we have built a solid reputation for providing our clients with the best properties and houses for sale in Toronto.
Our agents will ensure that your real estate investment in the city of Toronto is a well-informed one. The property market in Toronto is only booming, and we guarantee a great return on your investment in the long run. To find out more information about our real estate services, or further advice regarding properties and houses for sale in Toronto, do not hesitate to get in touch with our team; we will be more than happy to answer your queries. For your peace of mind, our services are stress-free and competitively priced.
We don't sell properties; we buy too!
In addition to selling properties in Toronto, we also buy properties in Toronto if you wish to sell them. Our experienced and qualified agents have the knowledge and skill to help you get the most out of your property. We pride ourselves on offering prospective clients the best deals on their property, ensuring they don't get taken advantage of. Our sales team will provide you with an accurate, competitive estimate on your property and find a suitable buyer that matches your property valuation. Our team will do all the heavy lifting by negotiating on your behalf, strike a profitable deal, and finalize the paperwork, so you can just sit back and relax knowing that your property is in safe hands. Additionally, our team will also assist you with property maintenance services until a buyer has been finalized.
Get in touch with our team today for details about our services and advice on buying and selling property. We will be more than happy to help you with all your requirements.
If you are looking for houses for sale in Toronto or looking to sell your home or commercial space in the city, look no further than Royal Canadian Realty. Give our sales team a call today at 905-364-0727 to schedule an initial consultation or for further inquiries.
Testimonials
" He was there for us through every step and didn't no loose hope even when we thought it's over. Encouraged us, and helped us see through every highs and lows in each property. Best person to go ahead with!. "
- Jincy Joy
" Chanpreet is game changer in this tough and saturated market for first time home buyer . We are very happy and glad to get out first home/ dream home 🇨🇦. In the times like this 'he got us our first beautiful 🏠 at a decent price. This profession needs strong relationship, communication power and sense of belonging with clients, and Chanpreet exceeds all the qualities. We wish Chanpreet for achieving all his successful upcoming endeavors in life and we will always be connected to grow together with Chanpreet. Best Regards and Cheers 🥂 Puneet and Ayeena "
- Puneet Chhabria
" What a great agent Chanpreet is. I am glad i got in touch with Chanpreet and his team for my home sale process. He provides outstanding service and offered great advice throughout the process of selling our house. Even in this market he was able to sell our property for full asking price in just 3 days and we could not be happier with our entire experience. I definitely suggest Chanpreet to everyone! "
- Sumit Mahey
" Just closed my first with Chanpreet and I must say, he's very dedicated, actively listens, doesn't cut corners and that's his time to satisfy he's customers. I definitely would recommend him to everyone. If you are looking for an agent, look no further, you found the best guy already. Just give him a call. "
- Haleema
" Awesome purchase experience with no stress at all. Very polite, detail and time oriented. Chanpreet helped me with the purchase of my first house recently. He is a very thorough professional. Working with him is a seamless experience. Chanpreet is very responsive, trustworthy and knowledgeable real estate professional. I would highly recommend chanpreet to anyone looking to make a smart purchase/sale. "
- Harry Bajwa
" Chanpreet did an absolutely amazing job assisting us with selling our house. He was professional and friendly, provided guidance and was very responsive to our needs. I HIGHLY recommend using Chanpreet for all your real estate needs, he really cares about his clients and their families. - "
- Joban Aulakh
" Chanpreet is an absolute wealth of knowledge, has a very high level of professionalism, and has great ethics. I do not think we would have been able to purchase a property in this "crazy market" (as Chanpreet bhaji calls it) without him. From searching new listings, taking to house tours, and submitting offers, he got us our dream house in Breslau. Couldn't be happier! He was there with us in our whole journey motivating us every step of the day. I would highly recommend and will most likely consult with him again in the future. He was the only one who listened to our liking and consider them in following house hunting. Thanks very much, Chanpreet! "
- Gurjot Singh
" We got our first home with Chanpreet and I must say he was very polite and helpful with all the queries we had. Even after closing the house he still answer to all of our concerns. He has great knowledge in Real Estate and very Professional. I am 100% satisfied with his work and knowledge in Real Estate and look forward to work with him in the future. "
- Aly Akbar
" I adore Chanpreet for his work, we just found our dream house in our budget when everyone saying no to us that, in this range you can't find a house with garage and backyard, but he found for us in the main city. Thanks chanpreet you did great "
- Rija Ikhlaque
" Very knowledgeable, Patient and Professional, Thank you so much for assisting in making my Family's Dream of Home Ownership a Reality. "
- Monique
" This was my second time working with Chanpreet. I contacted him to help my husband and I get an investment property in Brampton. Chanpreet was an AMAZING support throughout the whole process! Thanks to his expertise, patience and professionalism, he was able to find us an investment property within our budget and preferred location. Highly recommend his service! "
- Mandeep Gill
" We recently worked with Chanpreet to purchase our first property. He provided us with exceptional services. He helped us at every step, and guided us on what decisions suit us the best. I really liked how he was thorough with real estate world and how he researched for us when looking into properties. He treated us like family. We have been very lucky to work with him. I would highly recommend his services to anyone who is buying property. "
- Sunny Nagi
" Chanpreet is great to work with. I highly recommend him if you want to find a house with no stress. Thank you! "
- Farai Tangwanda
" Chanpreet is an excellent Realtor. I recently moved from Saskatchewan and i met Mr. Singh at his office in Mississauga. I am highly impressed with his real estate knowledge and his strong character. He was able to find us a brand new house in Georgetown. He has a great team (Lawyer, inspector etc). I would Highly recommend his service. "
- Paramjit Singh
" Chanpreet is a great guy to work with. He helped us find a place that's on our budget. He treated us not just like a client but a friend. He educated us as well. God really works mysteriously because he gave us Chanpreet and it is true that things happen for a reason! Thank you Chanpreet. "
- Dan Trespeces
" I found him very helpful, knowledgeable and trustworthy partner in house hunting process. He was able to provide me insights in to market and any pitfalls I may encounter. This helped me in making right decision and not going overboard with my emotional purchase. "
- Ahmad Bilal Khalid
" Chanpreet helped us get the condo unit that we really like. He worked so hard to win the bidding and in very reasonable amount that within our budget. I highly recommend his service. All straight forward. "
- Winnifer Tinio
" Chanpreet is the best realtor you can ever get. He treats you more like a family than a client explaining in detail of all the pros and cons of every potential property and gives you all the information necessary to decide if you want to proceed with it or not. He is extremely patient and will make sure he takes his time to get you the property you are absolutely satisfied with. His support extends even after the deal is done and will be there to answer any questions at anytime and I mean literally anytime. If he has the time to take you as a client, you are blessed. We had a great experience and would highly recommend him for anyone in the market who is looking to buy/sell a property. Thanks a lot for your service Chanpreet we are very glad to have found you. Hope to do a lot more of business with you in the future. Good luck! "
- Dilip Kishore
" Hi guys! I recently worked with Chanpreet on purchasing a property. I have to say that it was such a great experience! He did all the work and made it very stress free. His approach to our first time home buying experience was phenomenal, because he was so patient and not pushy like other agents. He made every step of the process very easy. Chanpreet was VERY articulate when it came to explaining things to us and very patient. All in all I was very pleased with this experience. I give Chanpreet a 10 of 10 rating, because he was sincerely an excellent agent. I would recommend him to all of my family and friends with their home buying experience. Well done Chanpreet!!! ? And thank you! ? "
- Susan
" We came across Chanpreet ji online and just decided to speak to him on instinct since we were still shopping around to understand the market and had already exhausted the contacts we knew - friends and referrals. Right from the beginning, his consistent professionalism got to us - he presented things just as they were, was honest and up front and didn't give us any false hopes. We trusted our instincts and decided to give him a chance. He went all out to not only accommodate our requirements, but also give us the pros and cons of every property we visited. He pointed out the negatives instead of pushing us to go for it, however impossible the market. Thank you, Chanpreetji, for all the assistance and guidance you provided to us as first-time buyers. We are glad we came across your handle on Social Media and contacted you from all the names which showed up in the ads. It was meant to happen right from the start and you made it a positive process. Thank you and all the best. "
- Shaheen Kapadia
" He is the best guy in this industary. He helped us to found our dream house in affordable price. He is very hard working, polite and honest guy. He found the house very soon for us. I will give him 10/10 for his service. Thanks very much Mr Chanpreet Singh for this help "
- Goldy Dhillon
" I would highly recommend him as he is well educated about his professional. He always did his homework before every showing and explained everything how should i move forward. He knew what i am looking for and he always been transparent with me about the property and its future prospect so whether should try to go for it or not. He always been supportive and encouraging about the deal when i was being skeptical that would i be able to get my desirable house. Being new to canada, i hardly knew anything about real estate works but he guided me to understand how market works and what is the key details i should look for while focusing to buy. Inshort he know in and out of all what needed to crack the deals as he has entire team to work for you. He would not let you go for high prices just to win the property since it will be lose on your appreciation in future. Cutting it short , i would definitely look forward to do more business with him as i really felt he is truely a genuine , sincere person who will try his best to get you want you are looking for. "
- Sahibjeet Singh Taneja
" Working with chanpreet throughout the whole selling process is very easy. He is so professional and punctual. He recently sold my property in Etobicoke. Anytime i had a question or concern, He was available for a quick call or through message. He is definitely a big recommend for anyone looking to sell a house. "
- Mandip Singh
" Chanpreet is an awesome agent to work with. He worked around our schedule to find us our dream home. He was also able to find us a best mortgage advisor, home inspector and a lawyer. Chanpreet is a great Realtor and a great negotiator. Highly recommend him! "
- Sohit Scolia
Previous
Next