House For Sale In Kitchener
A wide range of homes for sale in Kitchener
A city in the province of Ontario, Kitchener is one of the three cities that make up the regional municipality of Waterloo. It is the fourth largest city in Ontario, and the tenth-largest in the country, having a population of roughly about 300,000. The real estate market in Kitchener is where you must invest at present. If you are looking to buy, sell, or invest, this is the right time, as the demand for Kitchener real estate is on the rise. This region has one of the most competitive real estate markets in the country, with sales above average. A lot of people from Toronto come to Kitchener and invest in property. Royal Canadian Realty has the knowledge and experience to not only help buyers to find their dream home but also help individuals in Kitchener who are looking to sell their property at a fair price. For further information on Kitchener real estate, please do not hesitate to get in touch with our brokers today.
Houses for sale in Kitchener located close to top-class healthcare and educational institutions
The city has many public high schools, including the Kitchener-Waterloo Collegiate and Vocational School, founded in 1855; it is the oldest school in Kitchener. Other notable schools and colleges include Eastwood Collegiate Institute, Grand River Collegiate Institute, Huron Heights Secondary School, St. Mary's High School, Resurrection Catholic Secondary School to name a few. In addition to schools and universities, Kitchener real estate also includes several hospitals to ensure the safety and security of its residents. The Grand River Hospital, St. Mary's General Hospital etc., are some of the popular hospitals in the city and are highly ranked by the residents. So, if you are looking for Kitchener condos for sale, reasonably priced Kitchener apartments, look no further than the professionals at Royal Canadian Realty to help with all your property needs.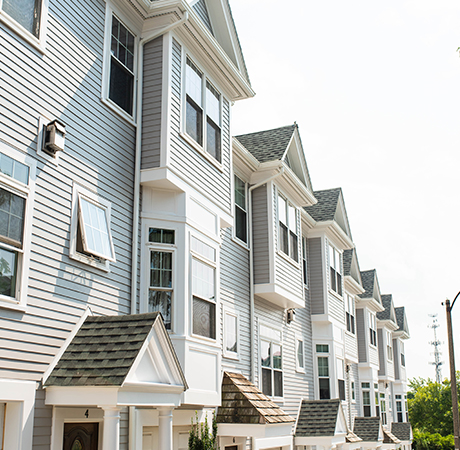 Affordable apartments for sale in Kitchener close to several recreational activities
The Kitchener-Waterloo symphony is one of the most notable recreational spots for the residents as it performs over 222 concerts annually. It draws on over 90,000 people, including employing a number of artists in the Kitchener region. The oldest and the most famous park in Kitchener is Victoria Park, located in the heart of downtown; many events are held in this park throughout the year. There are also many ponds, fountains, rock ghettos and waterfalls, making it a popular location for wedding photos in the summertime. The park also has a secure community trail system which is controlled and run by the city. There is also a bike park that includes a pump-track section, four-cross section, and free-ride course. Additionally, there is also a dedicated play area for the residents, including basketball courts, volleyball courts, a dog park, etc., for the residents to enjoy. These recreational activities convince many individuals who are looking to buy Kitchener apartments or houses for sale in Kitchener. With the city's property market looking to take shape and generate a lot of interest in the years to come, now is the perfect time to invest in Kitchener real estate.
Kitchener Condos for sale with the public transport system within reach
The city prides itself on its proactive public transportation system. The Kitchener region is close to many major highways that easily connect the residents to Niagara, Stratford, and the Greater Toronto area. There are plenty of ways to get around the city; residents can commute using the intercity transportation services to and from the Kitchener region by rail and bus. The Grand River Transit (GRT) is the city's public bus service that stretches across the cities of Cambridge, Waterloo, and Kitchener, including other surrounding townships. The ION rapid bus service ferries commuters between the cities of Cambridge and Kitchener. In 2018, the ION light rail service was launched by the government of Kitchener. It is a 19-kilometre route from the Conestoga Mall transit terminal in Waterloo to the Fairview Park mall transit terminal in Kitchener with has around nineteen stops in between. With the ION light rail service, GRT riders can transfer between bus and train services for free. If you are environmentally conscious and look to play your part in reducing carbon emission, carpooling in Kitchener can be arranged through the Travel-Wise Program.
So, if you are looking for homes for sale in Kitchener or apartments for sale in Kitchener that are closely situated to the city's public transport system, give Royal Canadian Realty a call today and discuss your property needs with our expert brokerage team.
We don't sell a variety of properties; we all buy properties in Kitchener too!
Here at Royal Canadian Realty, we have a wealth of experience in helping clients find their dream homes and purchase properties, ensuring the seller gets a fair price on their property. Our brokers have the experience and the knowledge on Kitchener real estate to help sellers get the best deal on their homes. You can rest assured; we will find the right buyer for your home and ensure you get a fair value that you are happy with. We do not add any hidden charges, and we pride ourselves on our transparency. So, if you are looking to sell your home or looking for Kitchener condos for sale, please do not hesitate to give our team a call today to discuss your property requirements.
For further enquiries about our property management services or to find out more details on Kitchener real estate, our team will be more than happy to assist you with your property needs. From homes for sale in Kitchener to a wide range of Kitchener condos for sale, including apartments for sale in Kitchener, we can help. To book an appointment, give us a call today at 905-364-0727. We are based in Mississauga, and we offer our real estate services to clients throughout Canada.
Testimonials
" We recently worked with Chanpreet to purchase our first property. He provided us with exceptional services. He helped us at every step, and guided us on what decisions suit us the best. I really liked how he was thorough with real estate world and how he researched for us when looking into properties. He treated us like family. We have been very lucky to work with him. I would highly recommend his services to anyone who is buying property. "
- Sunny Nagi
" Hi guys! I recently worked with Chanpreet on purchasing a property. I have to say that it was such a great experience! He did all the work and made it very stress free. His approach to our first time home buying experience was phenomenal, because he was so patient and not pushy like other agents. He made every step of the process very easy. Chanpreet was VERY articulate when it came to explaining things to us and very patient. All in all I was very pleased with this experience. I give Chanpreet a 10 of 10 rating, because he was sincerely an excellent agent. I would recommend him to all of my family and friends with their home buying experience. Well done Chanpreet!!! ? And thank you! ? "
- Susan
" Chanpreet is an excellent Realtor. I recently moved from Saskatchewan and i met Mr. Singh at his office in Mississauga. I am highly impressed with his real estate knowledge and his strong character. He was able to find us a brand new house in Georgetown. He has a great team (Lawyer, inspector etc). I would Highly recommend his service. "
- Paramjit Singh
" Awesome purchase experience with no stress at all. Very polite, detail and time oriented. Chanpreet helped me with the purchase of my first house recently. He is a very thorough professional. Working with him is a seamless experience. Chanpreet is very responsive, trustworthy and knowledgeable real estate professional. I would highly recommend chanpreet to anyone looking to make a smart purchase/sale. "
- Harry Bajwa
" We got our first home with Chanpreet and I must say he was very polite and helpful with all the queries we had. Even after closing the house he still answer to all of our concerns. He has great knowledge in Real Estate and very Professional. I am 100% satisfied with his work and knowledge in Real Estate and look forward to work with him in the future. "
- Aly Akbar
" Chanpreet is an absolute wealth of knowledge, has a very high level of professionalism, and has great ethics. I do not think we would have been able to purchase a property in this "crazy market" (as Chanpreet bhaji calls it) without him. From searching new listings, taking to house tours, and submitting offers, he got us our dream house in Breslau. Couldn't be happier! He was there with us in our whole journey motivating us every step of the day. I would highly recommend and will most likely consult with him again in the future. He was the only one who listened to our liking and consider them in following house hunting. Thanks very much, Chanpreet! "
- Gurjot Singh
" Chanpreet is game changer in this tough and saturated market for first time home buyer . We are very happy and glad to get out first home/ dream home 🇨🇦. In the times like this 'he got us our first beautiful 🏠 at a decent price. This profession needs strong relationship, communication power and sense of belonging with clients, and Chanpreet exceeds all the qualities. We wish Chanpreet for achieving all his successful upcoming endeavors in life and we will always be connected to grow together with Chanpreet. Best Regards and Cheers 🥂 Puneet and Ayeena "
- Puneet Chhabria
" Chanpreet helped us get the condo unit that we really like. He worked so hard to win the bidding and in very reasonable amount that within our budget. I highly recommend his service. All straight forward. "
- Winnifer Tinio
" Chanpreet is an awesome agent to work with. He worked around our schedule to find us our dream home. He was also able to find us a best mortgage advisor, home inspector and a lawyer. Chanpreet is a great Realtor and a great negotiator. Highly recommend him! "
- Sohit Scolia
" Just closed my first with Chanpreet and I must say, he's very dedicated, actively listens, doesn't cut corners and that's his time to satisfy he's customers. I definitely would recommend him to everyone. If you are looking for an agent, look no further, you found the best guy already. Just give him a call. "
- Haleema
" He was there for us through every step and didn't no loose hope even when we thought it's over. Encouraged us, and helped us see through every highs and lows in each property. Best person to go ahead with!. "
- Jincy Joy
" This was my second time working with Chanpreet. I contacted him to help my husband and I get an investment property in Brampton. Chanpreet was an AMAZING support throughout the whole process! Thanks to his expertise, patience and professionalism, he was able to find us an investment property within our budget and preferred location. Highly recommend his service! "
- Mandeep Gill
" I adore Chanpreet for his work, we just found our dream house in our budget when everyone saying no to us that, in this range you can't find a house with garage and backyard, but he found for us in the main city. Thanks chanpreet you did great "
- Rija Ikhlaque
" I found him very helpful, knowledgeable and trustworthy partner in house hunting process. He was able to provide me insights in to market and any pitfalls I may encounter. This helped me in making right decision and not going overboard with my emotional purchase. "
- Ahmad Bilal Khalid
" We came across Chanpreet ji online and just decided to speak to him on instinct since we were still shopping around to understand the market and had already exhausted the contacts we knew - friends and referrals. Right from the beginning, his consistent professionalism got to us - he presented things just as they were, was honest and up front and didn't give us any false hopes. We trusted our instincts and decided to give him a chance. He went all out to not only accommodate our requirements, but also give us the pros and cons of every property we visited. He pointed out the negatives instead of pushing us to go for it, however impossible the market. Thank you, Chanpreetji, for all the assistance and guidance you provided to us as first-time buyers. We are glad we came across your handle on Social Media and contacted you from all the names which showed up in the ads. It was meant to happen right from the start and you made it a positive process. Thank you and all the best. "
- Shaheen Kapadia
" Chanpreet is a great guy to work with. He helped us find a place that's on our budget. He treated us not just like a client but a friend. He educated us as well. God really works mysteriously because he gave us Chanpreet and it is true that things happen for a reason! Thank you Chanpreet. "
- Dan Trespeces
" Chanpreet is the best realtor you can ever get. He treats you more like a family than a client explaining in detail of all the pros and cons of every potential property and gives you all the information necessary to decide if you want to proceed with it or not. He is extremely patient and will make sure he takes his time to get you the property you are absolutely satisfied with. His support extends even after the deal is done and will be there to answer any questions at anytime and I mean literally anytime. If he has the time to take you as a client, you are blessed. We had a great experience and would highly recommend him for anyone in the market who is looking to buy/sell a property. Thanks a lot for your service Chanpreet we are very glad to have found you. Hope to do a lot more of business with you in the future. Good luck! "
- Dilip Kishore
" Chanpreet did an absolutely amazing job assisting us with selling our house. He was professional and friendly, provided guidance and was very responsive to our needs. I HIGHLY recommend using Chanpreet for all your real estate needs, he really cares about his clients and their families. - "
- Joban Aulakh
" He is the best guy in this industary. He helped us to found our dream house in affordable price. He is very hard working, polite and honest guy. He found the house very soon for us. I will give him 10/10 for his service. Thanks very much Mr Chanpreet Singh for this help "
- Goldy Dhillon
" Chanpreet is great to work with. I highly recommend him if you want to find a house with no stress. Thank you! "
- Farai Tangwanda
" Very knowledgeable, Patient and Professional, Thank you so much for assisting in making my Family's Dream of Home Ownership a Reality. "
- Monique
" What a great agent Chanpreet is. I am glad i got in touch with Chanpreet and his team for my home sale process. He provides outstanding service and offered great advice throughout the process of selling our house. Even in this market he was able to sell our property for full asking price in just 3 days and we could not be happier with our entire experience. I definitely suggest Chanpreet to everyone! "
- Sumit Mahey
" I would highly recommend him as he is well educated about his professional. He always did his homework before every showing and explained everything how should i move forward. He knew what i am looking for and he always been transparent with me about the property and its future prospect so whether should try to go for it or not. He always been supportive and encouraging about the deal when i was being skeptical that would i be able to get my desirable house. Being new to canada, i hardly knew anything about real estate works but he guided me to understand how market works and what is the key details i should look for while focusing to buy. Inshort he know in and out of all what needed to crack the deals as he has entire team to work for you. He would not let you go for high prices just to win the property since it will be lose on your appreciation in future. Cutting it short , i would definitely look forward to do more business with him as i really felt he is truely a genuine , sincere person who will try his best to get you want you are looking for. "
- Sahibjeet Singh Taneja
" Working with chanpreet throughout the whole selling process is very easy. He is so professional and punctual. He recently sold my property in Etobicoke. Anytime i had a question or concern, He was available for a quick call or through message. He is definitely a big recommend for anyone looking to sell a house. "
- Mandip Singh
Previous
Next